Round I
I'm sitting here waiting for Zen to come down and get the yummiest chicken wing tip she has ever seen. Fresh out of the oven, still warm and crunchy. Um, good. The only problem is that it is on a table in her enclosure, which means she has to come down from the Perch of Safety to the Table of Doom. Her technique is to hop from the PoS to a lower perch, Perch of Moderate Safety, then jump across the entire enclosure to another perch, Perch of Alarming Proximity, from which she jumps onto a box, which is a short hop to the ToD. She completed all this, jumped onto the table, let out a squawk, and flew back up to the PoS without the chicken. Go figure. Approach #2 was aborted on the PoAP, as was the third when Gwen and Stephen started honking. All that is missing is a voice over from Sir David Attenborough whispering about the carefully choreographed approach of the rarely-spotted Zen Crow.
Round II
I return 15 minutes later with the wingtip and a piece of sirloin steak. Not just any sirloin steak: Super Hub's steak prepared by the sous vide method and then grilled over coals. In short, the Best Steak Ever Made. No movement. Essentially Zen's response is: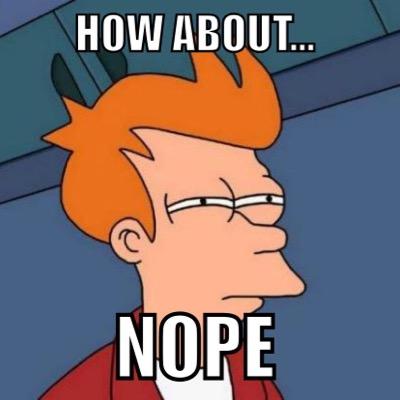 That's OK. It's a nice evening and I come equipped with a full glass of Pinot Grigio. The enclosure is reasonably clean. I've hung out in worse places.
Round III
Round 3; Glass of wine 2. It's getting chilly out here. Zen is bouncing back and forth between the Perch of Moderate Safety and the Alarming Proximity one. Wait, bam! She's landed on the table and grabbed the steak (good choice) and flown back to safety. She consumed the steak in one gulp and is getting fidgety again. The chicken remains. A dilemma for sure. So back to Sir David for the final, very appropriate, word.
Tune in for next week's episode. Will Zen grab the chicken? Will Room Service Woman run out of wine? Will the internet continue to produce David Attenborough photos? Come back and find out!